Gospel Bible Songs is the first album of the Cedarmont Kids Gospel series released in January 9, 2000 with seventeen classic gospel-style Songs. It is the only Gospel series to have a video.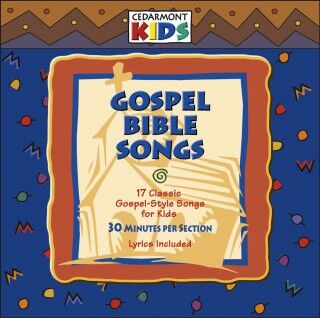 Cast Members
[
]
Megan Broadstreet
Daniel and Darius Cal
Marty Gay (age 9)
Robert Gay (age 11)
Jasmine and JerWayne Gunn
Ami Hines
Tiffany Hernandez
Jessica and Tucker Knox
Jessica (age 12) and Josephine Moore (age 10)
Tiah Mustin
Tosha Schmidt
Uriah and Zylah Solis
Andrew Thompson
Joseph and Stephen White
Briana Willis
Support Cast
[
]
Alana Bryant
Thobe Fauver
Benjamin and Will Greene
Chelsea, Shonda, Tiffany and Chris Hooper
Andrew, Cory, Lexy, Satedra, Shaquawn, Tate and Todd Mustin
Shelby St. Arnold
Eddy, Johnny, Joshua and Paul Warren
Allison and Lauren Wilcox
Songs
[
]
Ezekiel Saw the Wheel (with a trio)
This Little Light Of Mine
Rocka My Soul (feat. Andrew Thompson)
I Want To Be Ready (feat. Jerwayne Gunn, Darius Cal and Tosha Schmidt)
Do Lord, Remember Me (feat. Jerwayne gunn, Tosha Schmidt and Tiah Mustin)
Wade in the Water feat. Andrew Thompson
Get on Board (feat. Jerwayne Gunn, Tiah Mustin and LaJoy Gaines)
I Shall Not Be Moved
Jesus Loves the Little Children
Lord I Want to Be A Christian (with a solo by LaJoy Gaines)
The B-I-B-L-E
Were You There?
I Am A C-H-R-I-S-T-I-A-N
Jesus Loves Me
Children, Jesus Loves You
Down By the Riverside
Little David, Play On Your Harp
Adult Extras
[
]
Dale Cal
Twila Greene
Roy and Irene Martin
LaSonya Thompson
Trivia
[
]
JerWayne Gunn first appears in the two video series as he replaces John Lundquist who got ill.
This is the only Gospel album to have a Spanish version.